Sales Employee Tracking App

dayTrack helps you track your sales employee's GPS location and day activities, all in real time. Sales CRM modules helps to have precise control over your sales/service activities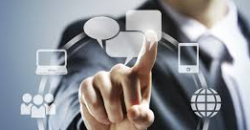 Want to know where your sales employees are, whom they met and what order they got today?
dayTrack - Sales Employee Tracking App
dayTrack - An android based sales employee tracking app with web-based admin panel ("software") to track GPS location of sales employee and manage their day activities by capturing updated and authentic data from point of execution. It's a complete solution developed with the inputs from various business verticals like publishers, FMCG, pharmaceuticals, footwear manufacturing, garments manufacturing units and much more to ensure sales employee tracking becomes so easy for the employers so that they can focus on right things for the growth. Our sales employee tracking app covers almost all the tasks which a sales executive does daily like meeting customers, giving samples, taking orders, collecting payments, taking feedback, putting advertisement material at customers place and much more. dayTrack app also gives options to sales employee to take pictures with GPS details, feed in his/her daily expenses and upload pictures of any outdoor marketing activity done that too with GPS details where activity was done. With the power of all these features which dayTrack offer, imagine the micro-level of information your company can collect and take right decisions on time for future.

Improve your sales and service team performance with dayTrack - sales employee tracking app. The depth of sales analytics and reporting provided by dayTrack guarantees that your most valuable investment- your sales team - is performing at the their best and gives you the data to make big decisions.

When your sales employees check in and out of customer visits with the app, their locations are recorded, the duration of the visit is calculated, and details are mapped out in real time. This not only lets you stay connected with your team, but also helps you better plan and manage your sales team, territories, and schedules.

Sales employee can enter the Order details which is placed by the client directly using the App and the order is made available in real-time to the head-office/branch-office/sales manager. No more delay in getting daily order details. Outside sales employees and managers can easily pull sales performance reports with the information that is tracked real-time in dayTrack. This means advanced sales analytics, with almost no additional time for the sales employee or sales manager.

Real-Time GPS location*
Geo, time-tagged attendance
Location specific attendance
Distance traveled calculation
Daily visit logs
Visit duration capturing
Digital sales order booking
Share order detail via Whatsapp
Payment collection details
Access client's business history
Tag client's GPS location
Geo-tagged images as proof of location
Sales manager access reports online
Add new client data with GPS info
Access product catalog on app
Create custom forms to collect data
Add images to custom forms
Images taken thru app can be sent
Add business opportunity from client
Reminders for business opportunities
Assign task to users nearest to client
Send communication via Notifications
Auto reminder if GPS, Internet is off
Feed expenses with pic of bill
Mark attendance using Mobile App (Time and GPS Location is mapped)
Attendance can be site specific (employee needs to be at a specific location for marking attendance)
Attendance with selfie, admin can force employee to mark his attendance with selfie
Employee location can be seen on map
List of contacts (distributor/dealer/sub-dealer) available to user on Mobile App
Admin can restrict viewing of contacts to the user by all contacts, branch level or user contacts only
User can Check-in and Check-out from client visit (Time and GPS Location is mapped)
Duration of visit automatically calculated with mapped meeting locations
Tag contacts' GPS coordinates to know companies' reach
Create sales order (Order is submitted to Office/Branch/Supplier directly in real-time)
Order details can be shared using Whatsapp/SMS/Email
Payment collection details (cash or cheuqe) with option to take picture of cheque
User can submit stock status (to analyse secondary)
User can take images from visit location
After meeting employee can enter feedback of meeting and can set reminder for re-visit also
Create custom form which user can fill, can be used as survey/feedback form
Create Beat Plan for user, app shows list of contacts where user needs to visit
User can create his own beat plan
Product list is available on Mobile App for easy reference
GPS technology to provide accurate information
Improves field sales employee productivity
Outdoor marketing activity details (with Photo, Date-Time and GPS location)
Delivers a whole new level of understanding of field sales team activities
No more daily/weekly/monthly sales reports - sales activity is collected on the fly
Distance traveled is shown in app and web-panel also
GPS location is shown on Google maps during office hours, know where your staff is
Daily visits report, No need to take report from employee
Monthly visits report (employee-wise)
Monthly Attendance Report
Total distance travel report for reimbursement
Daily expense logging, admin can create categories of expenses
Simple to use and reasonably priced
Books publishers - for tracking their sales executives
Fast-moving consumer goods (FMGC) - for tracking their salesman/field force
Pharmaceuticals - for tracking their medical representatives ("MR")
Field Service - for tracking their field work force ("service engineers") providing on-site customer services
Footwear Manufacturers - for tracking their sales reps who collects orders from markets
Garment Manufacturers - to track their sales team who distributes samples and takes order from retailers
Real Estate - to track their sales team who move along with client's for site visits, engineers who are responsible for more than one project
Distilleries - to track the movement of sales employees, taking stock status and other vital information
Agro Products - to monitor the movement of sales team employees who visit farmers, retailers and distributors.
Lifts & Elevators - to track sales and service staff. Capturing real time images of faulty parts of lifts is an advantage.