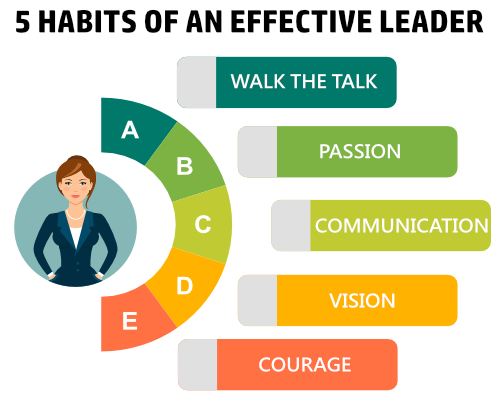 5 HABITS OF AN EFFECTIVE TEAM LEADER
Great leadership is dynamic, it melds a variety of unique skills into an integrated whole. Do you think you have what it takes to be an effective leader? Well, here are some of the many ingredients which go into an effective leadership mix:
WALK THE TALK
Transparency and authenticity and are a prerequisite of becoming a leader. Strong leaders tend to align their claims and actions. People feel more confident in their decisions because they don't have to worry about their leader having any ulterior motives.
PASSION
Exceptional leaders have an unstoppable momentum. They infuse their love for work in the people around them and motivates them to keep the passion going. A leader's passion opens doors of the new opportunities not only for themselves but for their entire team.
COMMUNICATIONS
Communication is the underlying secret of exceptional leaders. They have the ability to communicate tasks effectively to reach their goals. Beyond productivity, effective leaders communicate to motivate, inspire, reassure and direct their team members from time to time.
Vision
Leaders drive their passion towards a goal. Their vision sets a target which fuels a fire within the team members and illuminates the direction which they should follow. By creating a shared vision, leaders can motivate their team to execute task whole-heartedly.
Courage
Strong leaders act as a calm impediment to a tough course of waves. Even if the odds are against them, they take a courageous stand in adverse situations and inspire their team members to do the same.